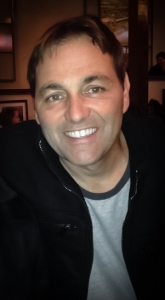 Mike Donahue
Mike is simply one of the best storytellers of our generation. He is able, in minutes, to translate his story from growing up in the suburbs of Boston in a dysfunctional family to helping young people today cope and overcome their specific challenges. Your students will be laughing one minute and then holding back tears the next. His messages include: inherent self-value, how to deal with negative emotions such as anger and depression, the importance of how we treat others and examples of long-reaching chain reactions by simple kindness, and how to turn pain into purpose. The feeling and inspiration in the room during and after the presentation is palpable. There is a viewable effect: many tears, smiles, hugs and laughter. Those thought to have thick defensive walls let their guard down, 100s of students, if given the opportunity, approach Mike to shake his hand or vow to change. We have stories of students planning to commit suicide vowing to hold on. Other students promising to treat others better and with value. We have received thousands of letters/emails attesting to the fact that the Value Up message made a difference in individual lives and the overall social climate of the school.
Value-Up
The Full Day Events Includes:
School Assembly (see above for description)
Student Training
Professional Development/Teacher Training
Community Event
STUDENT TRAINING – THE VALUE UP CLUB
One of the amazing aspects of the full day event is the student training. In this students get one on one time with the speaker for Q&A, a discussion on leadership, and a training on how to culturally, positively impact the school. Student leaders are chosen by teachers and administrators prior to the day of the assembly – anywhere between 50 to 200 students. These students will continue to meet weekly or monthly to participate in projects effectively tested to help create a more positive atmosphere in hundreds of schools. Either a new club can be created within the training with this group or a club that already exists at the school that would be interested in tackling the projects that that help the school become a more positive place. Either way, the student-driven group will become a positive force in the school. (*Recommend: the Culture Building Tool Kit is a very useful resource for this group in particular).
PROFESSIONAL DEVELOPMENT
Teachers are offered a teacher training aimed at strategies on how to help cultivate a the right climate and culture within the school and how to help build emotional resiliency within their students. This training takes a look at 4 principles when the United States was #1 in the world as a first world country in education. There is also a small-group brainstorm session focused on strengthen the right school culture.
COMMUNITY EVENT
Parents, families and community members are invited to come hear the same message and story the student heard that day. This reinforces the message of valuing ourselves and others within the home and community. The typical response from principals is that, as compared to other events, these community events get a larger turnout. Again, the feeling and inspiration during and after the presentation is palpable. The message of forgiveness has helped bring healing and reconciliation for many families. The speaker also encourages for parents to build emotional resiliency within their kids.
If you are wanting the full impact of our program, we have our premiere package which includes both speakers, Mike Donahue and Craig Scott. The two give joint presentations to the entire school, teacher training, and student training which is the best of both of their content and stories that work well together, each story tackling some different issues teens and teachers are facing today while still having the main them of valuing oneself and others. Outside of the presentations, the two spend the entire day in the school meeting with any classrooms, students, or groups the school would like them to meet with. It makes a big difference on the impact of the day to have both Mike and Craig come in together as a team.
$1000 Culture Building Tool Kit
One of our main goals at Value Up is to have a long term impact on school culture. There are many good speakers out there, but how many of them truly affect school atmosphere and culture over a whole school year? Superintendents and principals regularly tell us that Value Up is the most impactful program they've ever seen and what they really like about it is that it has staying power. A huge part of that is due to our culture building tool kit which is our "leave behind" materials to continue the message and affect form the assembly and training day. Click on the Culture Building tab on the website for a breakdown of this or click here.